About Us
Fire Detection Devices Ltd. is a family-owned Canadian company supplying the world market with more than 100 models of spot-type heat detectors for fire alarm systems. We consider reliability to be our top priority and use only the best quality materials, all of which are sourced from Canada and the United States. Our precise manufacturing processes, coupled with rigorous calibration and testing procedures, guarantee a detector of the highest quality – a guarantee that is reflected in our 10-year warranty.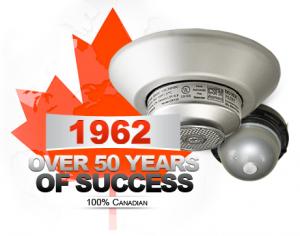 The company was founded in 1962 by Jack Duggan, a lifetime member of NFPA and the founding president of the Canadian Fire Alarm Association. Jack dedicated his life to the design and development of the most reliable heat detector on the market. In 1964, Underwriters Laboratories of Canada certified the first of the THERMOFLEX™ products. Jack passed away in 2005 in his 91st year; his legacy lives on in the thousands of THERMOFLEX™ products installed worldwide.
Today, the company is headed by David Duggan, a ULC committee member, Canadian Fire Alarm Association board member, and the past President of the Canadian Alarm and Security Association. Patricia Duggan, CSP, is the company's Vice President and is responsible for marketing and product development. Fire Detection Devices Ltd. continues to stand by its products and guarantees quality, security, and reliability of each and every one of the THERMOFLEX™ heat detectors.